Akron Uniforms has been serving the Akron area and beyond since 1984, providing postal, fire, EMS, corporate, medical, hospitality and other uniformed professionals with uniforms they can be proud to wear. Through the years we grew and changed, while we continued to focus on providing the best service possible to our valued customers.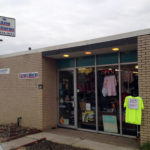 In 2014 we outgrew our space and moved to a new larger space warehouse store, where we have been featuring the same great products and service you came to know. We expanded to serve police and sheriff professionals and introduced many new and innovative products and services.

Akron Uniforms is a service-oriented company, offering a wide selection of uniforms available in stock and on demand, a wide variety of manufacturers, competitive prices and individualized customer services. We expanded our services to include graphic design, and an in-store custom fitting room and waiting area, as well as the on-site seamstress/tailoring services, embroidery and silk-screening our customers have come to know. Shop our retail store and choose from our well stocked sales racks, or we will special order what you need.
We value each one of our customers. There is no limit to what Akron Uniforms will do to continue to keep its customers satisfied and that promise will continue to be honored. If you are already a customer, then we thank you for your business and if you are a potential customer please contact us or come visit and see what we have to offer; you will be glad you did. Thank you!